Book Fair Gift Vouchers
Book Fair Gift Vouchers are the simple, secure way to ensure a child gets the books they want when the Book Fair arrives and are perfect if a parent can't make it to the Book Fair.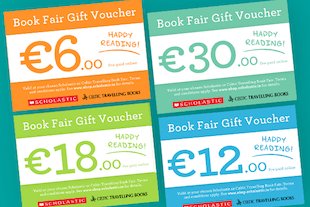 Even better, parents will save 20% when they buy online meaning a €12 voucher costs only €10, a €6 voucher costs only €5 and so on. This makes Gift Vouchers the most cost-effective way to enjoy a Book Fair.
Plus, your school earns Rewards for free books on the full value of the voucher, rather than the discount price.


Find out more about Scholastic Rewards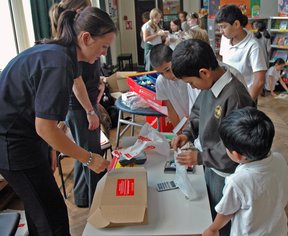 To buy Book Fair Gift Vouchers, all parents need to do is go to our Scholastic Shop. Easy!
Once a purchase has been made, they will receive the voucher in an email which can be printed and given to their child – much safer to carry than cash!
Similar Posts
It's never been easier for Book Fair Organisers to take payment from parents visiting the Book Fair.

Payment at the Scholastic Book Fair has never been easier with our new Phone Payment service, allowing parents to pay for individual purchases using a debit/credit card over our secure payment telephone line.

In Autumn 2017, pupils at Bunscoil Loreto in Co. Wexford took on the challenge of planning and running their Scholastic Book Fair. Teachers Susan Kavanagh and Therese Kehoe have written up their experience.
All categories